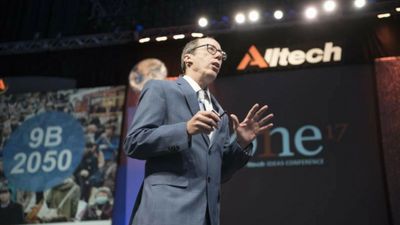 Jack Bobo
Jack is a food futurist. His presentations are a fast-paced and engaging exploration of the future of food, consumer psychology and food policy.
As an internationally recognized food futurist and speaker, Jack will bring keen insights and engaging humor to your next event. Contact us, and we can design a workshop or presentation that fits your needs. Jack has delivered more than 400 presentations in 50 countries around the world. He was name by Scientific American one of the 100 most influential people in biotechnology.
Select Speeches
TEDxTysons, Addressng Consumers Food Fears, Tysons, VANational Farmers Union, Keynote
Future of Food, Birmingham, UK
Alternative Protein Show, Speaker, Consumer Protein Trends, San Francisco, CA
FarmTech, Keynote, Future of Food, Calgary, Canada
USDA AgOutlook Forum, Panelist, Future of Gene Edited Animals, Rosslyn, VA
NASDA Annual Meeting, Washington, DC
National Food Policy Conference, Consumer Federation of America
Society for Risk Analysis, Panelist, Understanding Consumer Behavior, New Orleans, LA
GrowCanada, Keynote, Future of Food, Ottawa, Canada
World Women Summit, Speaker, Future of Food, Little Rock, Arkansas
TWIN Global, Panelist, Future of Food, Chicago, IL
Agricultural Biotech International Conference (ABIC), Keynote, Biotech Trends, Weifang, China
David West Reynolds Ph.D
Dr. David West Reynolds is a futurist, archaeologist, and New York Times #1 best-selling author. His powerful presentations range from the ancient world to the frontiers of space to explore the deep human patterns that illuminate the trends of tomorrow.
David combines a Ph.D's analytical ability with a best-selling writer's storytelling skill to infuse his talks with the same exciting energy that has made his Star Wars books international bestsellers in over a dozen languages. His adventures in Africa, the Americas, and the Arctic have earned him the title "the Real-Life Indiana Jones" (BBC, USA Today). This 21st century Renaissance man uses his captivating stories and his command of the timeless power of myth to teach audiences to think like futurists and make sense of our complex world.
David's website can be found here (http://davidwestreynolds.com).
Select Books
Apollo: The Epic Journey to the Moon

Kennedy Space Center: Gateway to Space
The Hammond Atlas of World Religions
Star Wars: The Visual Dictionary
Star Wars: Incredible Cross-Sections
TIE Fighter: A Pocket Manual
X-Wing: A Pocket Manual
Star Wars: Episode I The Visual Dictionary
Star Wars: Episode I Incredible Cross Sections
Star Wars: The Complete Visual Dictionary
Star Wars: Attack of the Clones: The Visual Dictionary
Star Wars: Complete Cross-Sections
Select Clients
BBC, Smithsonian, National Geographic, Discovery Channel, Federal Government of Canada (Department of Fisheries and Oceans), Paramount Pictures, Lucasfilm Ltd., University of Michigan, Universal Studios, DK, Prehistoric Animal Structures, Archaeological Institute of America, Expedition Magazine, Explorers Club of Canada, American Astronautical Society